Problems

 
You Face in Your Business
Get a Website + Mobile & Tablet App + Admin system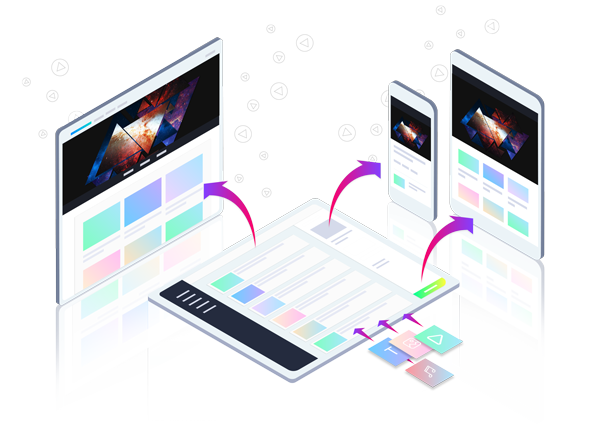 Digital Marketing
Understanding Customer Behaviour
Driving Sales
from Your Digital Assets
Creating Content
All Features

 
of Mobile & Web
Videos | Photos | Text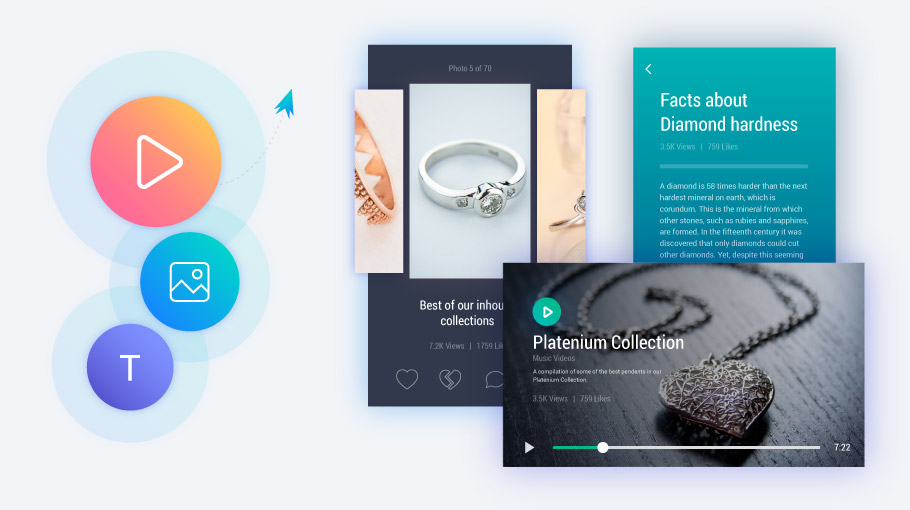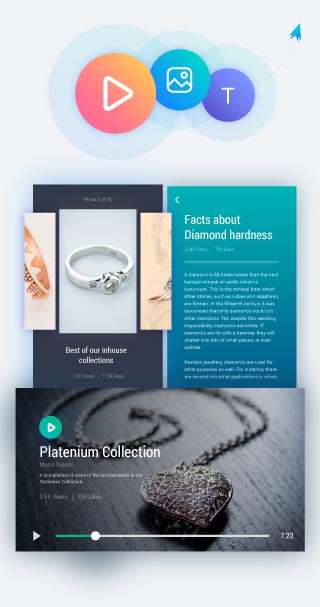 Best Digital Showroom which is live, realtime and interactive
Categories
Present your collections in well organised categories in the way you want.
Likes, Dislikes on content
Users can express their likes and dislikes on your products which provides you more insights on what users prefer.
Comments
Enables users to express their love and appreciation for your collections.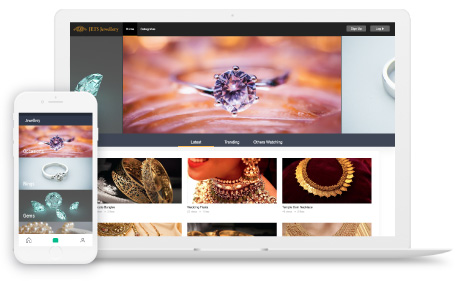 Latest Content
Acquiring a new user is 6x more
expensive than increasing revenues
Trending Content
Users can discover what is trending in your products based on the activities of other users.
Mobile, Tablet & Web
Presence on all of mobile, tablet and web enables to reach out to maximum users possible.
Others Watching
Improve discovery of content by letting your viewers see what is being watched by other.
Full Screen Browsing
Let your viewers view your gorgeous collections in a full screen experience.
Content Presentation
Organise and present your products and content in the way you like.
Get new customers
Mobile, Tablet & Web
With presence on all of mobile, tablet and web, your chances of acquiring new customers triples.
App Invites
Using app invites your users can invite their friends and family to check out your collections.
Facebook Share
Facebook share enables your users to share your content on social media, though which you get more of organic visitors.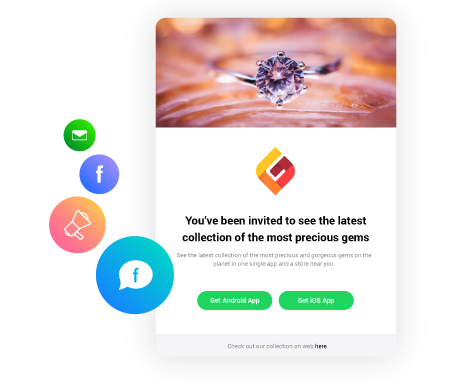 Improve revenues from Services through Wish list, Appointments & Live Chat
Wishlist
Wishlist enables your users to collect items which they are interested in and directly contact you.
Appointments
Your customers can book appointments with you directly with their specific wishlist. This enables you to sort the items in advance before they visit your showroom, so that time is saved for both you and your customer.
Live Chat
Live chat on web enables you to instantly answer to queries of your customer, which highly engages them and increases the possibilities of successful sales.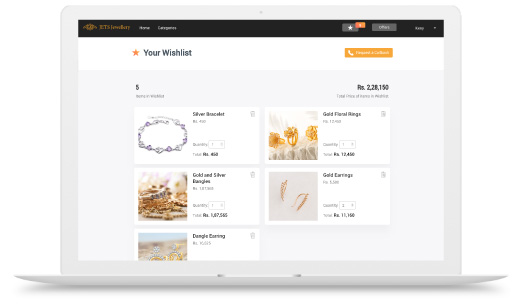 Lower cost but Higher revenues on marketing
Facebook Share
Social share features increases possibilities of organic growth and higher revenues.
App Invites
App invites enables your users to invite their friends and family to check out your collections, which increases your discoverability and reach.
Google Search
Your content will show up on Google search which highly increases your discoverability and sales.
Reach on Mobile & Web
With reach on all of mobile, tablet and web, your customers can discover your content from anywhere and every, which increases your sales conversions and revenues.
Market to the Right Audience
With customer targeting features, you can improve your offerings, campaigns and strategies based on behaviours of your customers, so as to maximise the possibility of successful sales.
Increase revenues from customers through Intelligent Sales and Marketing
Notifications
Jets provides features to send custom notifications to your user to promote new products and offers
Customer Insights
Get insights on customer behaviours and activities, so that you can take better decisions.
Accurate Targeting
Target customer groups with offers and promotions based on their unique behaviours.
Wish Lists
Jets enables your customers to create wishlist of products they like, which you as a business owner can also access, so that you can offer them good deals and increase sales.
Top 10 Content
See lists of your top content based on customer activities, so that you can strategise your product plans better.
Top 10 Categories
See lists of your top running product categories, so that you can plan your product strategies better.
Everyday SMS Insights on showroom and visiting customers
Daily Insights in SMS
As a business owner get daily SMS insights on the activities on your content and products.
How content is performing
Know which products are working well and which are not, so that you can improve your product planning.
How are offers performing
Know how well your offers work to increase your sales.
Customer Growth
Get regular insights on the growth of your customer base and performance of your products based on customer activities.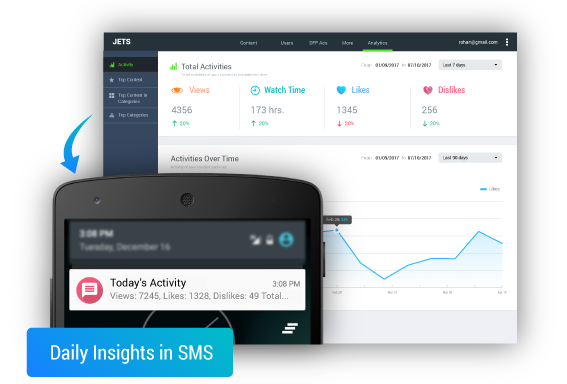 © Copyright 2019 GrowthBeats Technologies Pvt. Ltd.